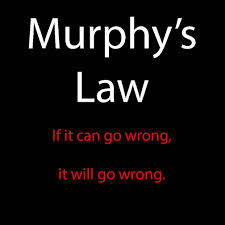 Oh those Amazin' Mets. After sweeping the upstart Chicago Cubs, the Mets frittered away countless opportunities against K.C. The blog title would have been Vin Scully's call of the play.
Who would have thought Murphy's Law and karma would have been the undoing of this team? Thirty years after the Mets benefited from Bill Buckner's gaffe en route to the championship, Daniel Murphy did his best Buckner impression in Game 4. The sad part is that Murphy had a historical postseason with seven home runs in nine games leading up to the World Series but that is the image people will remember. Murphy is now a free agent and was the same guy in April, 2014 who made news by missing the Mets first two games to be present for the birth of his first child.
And a final shoutout to Mets outfielder Yoenis Cespedes who had a ridiculously foolish base running gaffe in the ninth inning of Game 4 that ended the game. And for the record, Cespedes will not get the six-year deal he is angling for and hitting .225 in the playoffs won't help your cause. There is a reason you are on your third team in the last year.
"If at first you don't succeed, try, try again." After losing a heartbreaking Game 7 in 2014 to the San Francisco Giants, the Royals bounced back to win their second World Series in four tries. This is not a team built on superstars, quite the contrary. They are 15th in major league payroll and Alex Gordon is the only player making over 10 million.
This was not an elite starting pitching staff. Johnny Cueto was acquired mid-season to be the ace and was a disappointment with a 5.40 postseason ERA and a 4.76 regular season ERA with a 4-7 record to match. Journeyman pitchers like Chris Young and Edinson Volquez have put together two straight good seasons while youngsters Danny Duffy and Yordano Ventura are still finding their way.
But it was the Royals bullpen that led the way. Wade Davis, Kelvin Herrera and Ryan Madson were a lethal combo in the regular season while Davis and Herrera pitched 24.3 innings in the postseason only allowing one run.Even better news for K.C. Alex Gordon and Alex Rios come off the books saving almost 25 million and all their other core players are signed past next season.
In case you are thinking about next year and courtesy of Bovada Sports Book, the Cubs are 11-1 favorites to win it all next year followed by the Royals, LA Dodgers, Mets, SL Cardinals, Toronto Blue Jays and Washington Nationals who are all 12-1.
Don Mattingly is going from the salary penthouse to the outhouse now that he has been named Manager of the Marlins.
Best quote of the week belongs to the immortal Shaquille O'Neal. Never one to shy away from talking about his old team he said "The Lakers aren't going to be any good. They're the fourth best team in CA and they're the second best team in their own building. They're lucky the WNBA Sparks aren't playing because they'd be the fifth best team in CA."
Meanwhile, first overall pick Karl-Anthony Towns has 42 points, 26 rebounds and 4 blocks through the first two games leading the T-Wolves to two wins while Jahlil Okafor has 36 points and 13 rebounds for the Sixers in that same span. The Lakers will regret the decision to take Okafor over D'Angelo Russell.
The Houston Rockets are 0-3 and Kevin McHale's job has got to be in jeopardy. McHale saved himself last season when he got the Rockets to the Western Conference Finals, but time is running out on the Minnesota product. I have never been impressed with his coaching even though he is my favorite all-time Celtic.
A Miami Heat – Cleveland Cavaliers Eastern Conference Finals is very realistic this year.
Prior to the start of the season, Derrick Rose mentioned he is looking to his free agent year in 2017. I would say playing in a grand total of 100 games the previous three seasons is essentially free agency.
The current state of the Boston Celtics is not pretty. They are a team in disarray at the current moment and are essentially an anti-fantasy team. They go twelve deep and even don't dress some guys that arguably should get some minutes, but no one and I repeat nobody can consistently score. Coach Brad Stevens who has been excellent in his tenure, hasn't handled this well thus far and has too many mediocre players to get minutes for. General Manager Danny Ainge needs to reshuffle some parts and find a way to get some scoring.
Did LaMarcus Aldridge eat his contract?
Top overall pick Connor McDavid is dominating from the get-go. In his first 12 games for Edmonton, he has five goals and seven assists. In his rookie season, Sidney Crosby (1 goal in 11 games this season) had two goals and thirteen assists in the same span. In their rookie seasons, Wayne Gretzky had 137 points and Mario Lemieux had 100. Incidentally, in the 85-86 season, Gretzky recorded a career high 215 points. Seriously!
Second pick Jack Eichel has four goals through 12 games.
Montreal continues to dominate but have lost Vezina favorite Carey Price temporarily to an injury.
But the biggest surprise thus far has to be the Anaheim Ducks, who were one game away from the Stanley Cup last season. Before getting their second win the other night against Nashville, Anaheim was 1-7-2 and had scored ten goals while being shut out five times.
Until next time…